There are many horrible forms of animal abuse, such as horse racing, hunting, and meat eating. But the most inexplicable is dog fighting.
Author: Myrto Varela
Neither is it painless nor does it belong to the dog's nature to fight his own species. Sometimes even to death. When dogs are rescued from dog fights, they suffer from irreversible mental and physical traumas. And the most terrifying of all is that people don't know that there are well-organized circles of the underworld that organize dog fights in communities where it is formally illegal.
The Worst Cases
A very characteristic example of that is the dog fights organized in Greece. The oldest case of a dog fight in the country is the one in Imathia. A few years later, another case came into publicity that took place in Katerini. Now, in 2018 the municipality of Kalamata set in charge of the stray animals in the city a trainer who is accused of animal abuse and involvement in dog fights. A former employee of this trainer more characteristically says: "He is the definition of animal abuse, in his place, most of the dogs reside in little spaces like jails. He used to hit the animals with wooden sticks during the training. That's why he never let the owners be present. He was so harassing that some dogs died in his hands." But despite the severe charges against him and other people involved with the underworld of dogfighting, the Greek authorities haven't taken action yet. 
In 2020, the pit bull Betty was found in a horrifying condition in Delmenhorst, Germany. She had her ears cut and her leg broken. Her body was full of scars, and all these indicated that she used to be a fighter. The animal lovers looked for her owner, and when they found him, all he had to say was that he didn't know her. And that's where his charges stopped.
But the most brutal case I have ever come across is the one in Sao Paulo, Brazil. On December 17th, 2019, the Brazilian Police entered a farm in Mairipora, Sao Paulo, where dogs were forced to fight to the death, and then, the losers were barbecued and eaten by the crowd. The police of Sao Paulo arrested 41 people, including a doctor, a vet, and a fellow police officer. Additionally, there were two children watching the violent show accompanied by their father.
Another case that proves how well-organized this crime has come to be is the biggest dog fighting bust in the history of the United States.  It was July 8, 2009, when 350 dogs were rescued during this multi-state police investigation. 30 people were arrested and accused of shooting unsuccessful fighters in the head or burning their corpses in a barrel. The investigation lasted one year, and the arrests were made in Missouri, Iowa, Oklahoma, Illinois, Texas, and Arkansas.
Following The Traces Of Criminals
Animals involved in dogfights have extremely musculus bodies burdened from steroids. They also have characteristic permanent face scars caused either by their opponents or by their trainers. 
In Greece, there are approximately 55 illegal dog breeding facilities that promote pit bulls for dogfights. According to specialized police officers, during a dogfight, someone can find more drugs than they would find in an investigation regarding purely drugs. In 2017, a case of child pornography led to the exposure of a dogfighting club in Spain. According to the police department of Chicago, 59% of these people are also involved in other gangs, 70% have been arrested in the past for felonies, 65% for violent attacks, and 70% for drug dealing.
Pit bull breeders mostly promote their dogs through a Czechian website, and they use specialized terminology in order to pass unattended to the untrained eye. The most common terms are: 1W= one win, 1D= one tie, 1L= one loss. Additionally, "Gr Ch" means five wins in total, "POR" (producer of record) means that a fighter has won multiple times, "ROM" that a dog has brought successful offspring, and "GL" indicates a dog that has lost multiple times. The word "machine" is also common for dogs that tend to be challenging opponents. The abbreviation "GT" is used for dogs that are game tested on the field. "Match" means that there is a scheduled fight between two dogs.
A fighter's weight is of the utmost importance for these criminals. Fights always take place between participants of similar weight. To be precise, "catch weight" means that a dog weighs more than 52 lbs, "chain weight" indicates the average weight of a participant, and "pit weight" suggests that a dog has lost several lbs and is now eligible to participate in the fight.
Many owners of fighters look up to China as a model because their dog fighting is legal and takes place in big luxurious arenas. There also are a few more countries in the world that allow dog fighting, such as Morocco and Western Sahara. Below, you will see a detailed map enlightening the regulations on dog fighting.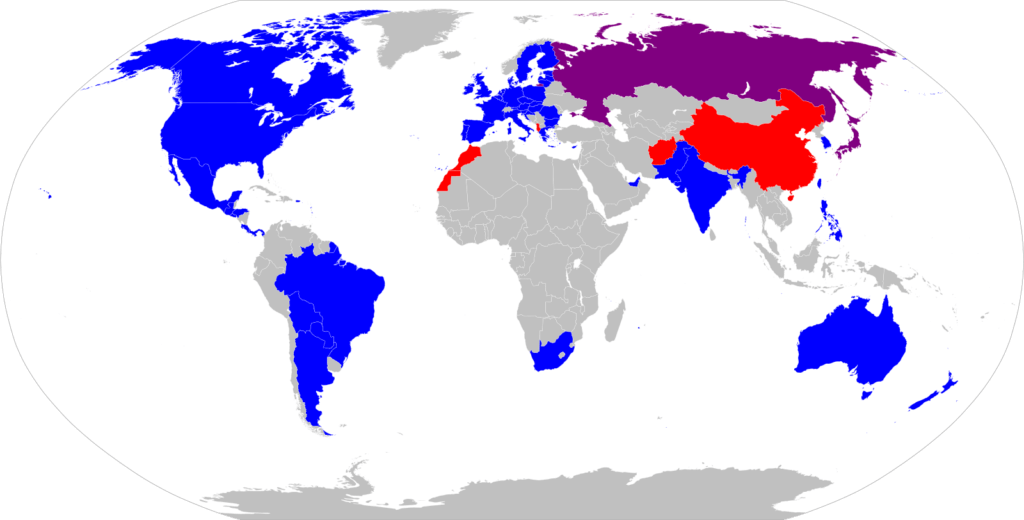 Blue means that dog fighting is banned
Purple means that dog fighting could be legal in some regions of the country
Red means that dog fighting is legal 
And gray means that it's unknown
I wish that people were actually able to understand that their silence is a pathetic form of participation in these crimes. The underworld of dogfighting cannot be stopped unless we speak up. So people shouldn't hesitate to contact the authorities if they suspect that any form of animal cruelty is taking place. Check out Vkind.com to find dogs in need at your local rescue shelter and sanctuary. 
Resources:
Dog Fighting Ring Smashed In Brazil
America's Biggest Dogfighting Bust
_________________________
SUBSCRIBE TO OUR NEWSLETTER
Vkind Vibes is our popular weekly newsletter where we share the latest news, tastiest recipes, and hottest trends impacting the VegEconomy. SUBSCRIBE NOW!
WANT MORE?
JOIN US AT VKX 2023!
The Vkind Experience (VKX)
is an immersive plant-based event celebrating travel, culture, and cuisine around the world as guests explore 11 experiential rooms while sampling an elevated fusion of world flavors.
JOIN THE VKIND COMMUNITY Download the Vkind app
on the
App Store
or
Google Play
to create your social profile and start sharing reviews of vegan businesses, watch original content, and explore the plant-based world with your friends! 
JOIN THE VEGECONOMY
Are you a vegan brand owner or professional?
Add your listing
to our business search platform to get more eyes on your vegan enterprise.
TAKE THE VEGECONOMY PLEDGE
Take the VegEconomy Pledge to show support for sustainable business practices and make a commitment to
Spend Like You Give A Damn
. 
WATCH & LEARN
Subscribe to our YouTube channel
for our latest shows, live events, interviews, videos, news, secret giveaways & more!
STREAM "PEELED", THE ALL-VEGAN COOKING COMPETITION SHOW
Produced by Vkind Studios in a limited 3-part web series,
Peeled
is the award-winning all-vegan cooking competition show that's on a search to find "America's Hottest Vegan Chef".
FOLLOW & SHARE
Our content is always entertaining, educational, and inclusive. Follow us everywhere on social media!
SHARE VEGAN RECIPES
Share your delicious vegan recipes
with the Vkind Community on our app and website.