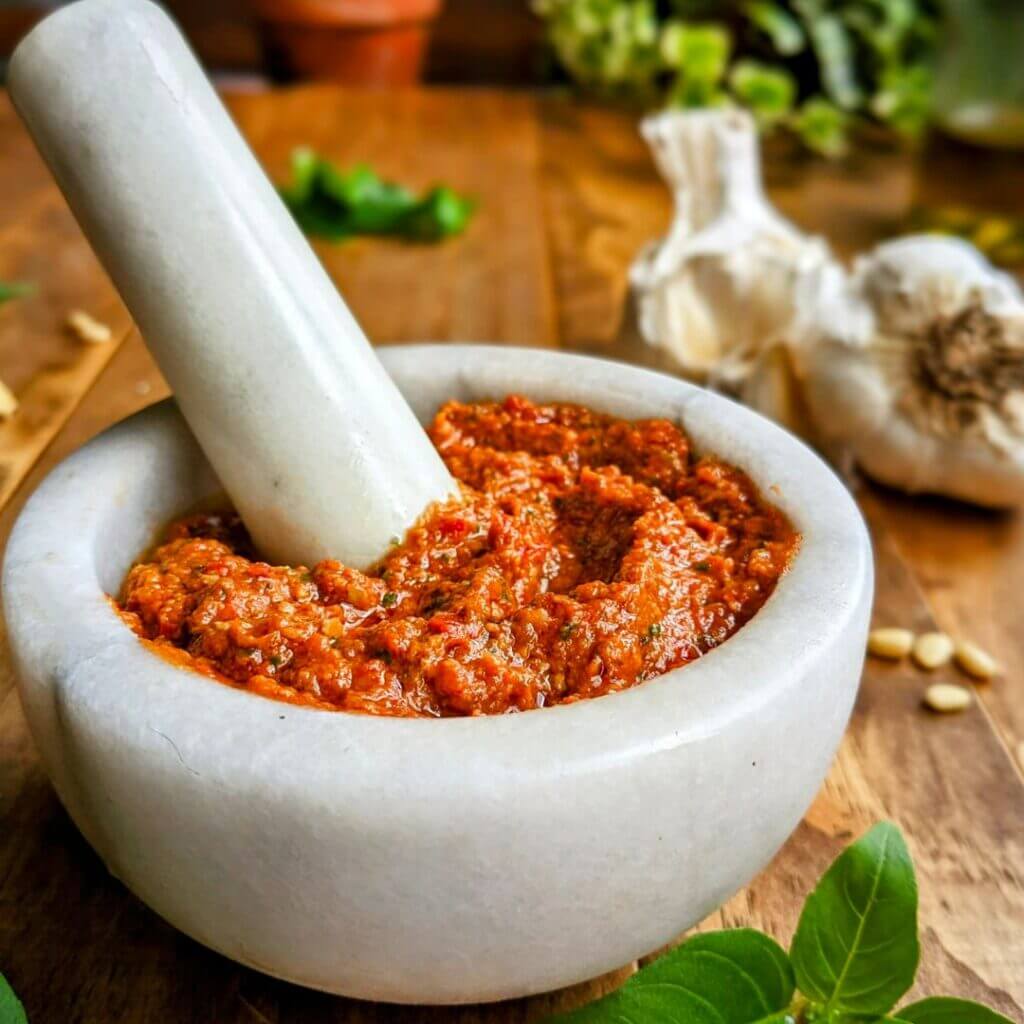 www.instagram.com/veganfeastphotography/
This Sundried Tomato Pesto is a lovely variation on traditional pesto, and incorporates sundried, as well as fresh tomatoes, in addition to nuts, garlic, basil, and olive oil. It is a delightful sauce that will transform any dish it accompanies. Serve this pesto just as you would basil pesto, and watch as your taste buds dance in delight.
My Story
Indulge in its rich and vibrant flavors over pasta, spread it generously on a perfectly crisp pizza crust, stir it into soups, blend it into a smooth and creamy hummus, or use it as a spread on your favorite sandwich, elevating it to a whole new level of deliciousness. Let your imagination run wild with the endless possibilities!
Ingredients
½

cup

sun-dried tomatoes in olive oil

1

cup

fresh tomatoes chopped

3

garlic cloves

½

cup

fresh basil

2

tablespoons

pine nuts

or walnuts

2

tablespoons

olive oil

salt & pepper to taste
Instructions
Add the pine nuts or walnuts to a dry pan, and toast over medium heat for 1-2 minutes until they are fragrant. (Keep an eye on them because they can go from toasty to burnt in no time.)

Combine the sun-dried tomatoes, chopped fresh tomatoes, garlic, basil, toasted nuts and olive oil in a food processor or blender. Process to a paste.

Transfer to an airtight container and store in the refrigerator.
_________________________  
SUBSCRIBE TO OUR NEWSLETTER
Vkind Vibes is our popular weekly newsletter where we share the latest news, tastiest recipes, and hottest trends impacting the VegEconomy. SUBSCRIBE NOW!
WANT MORE?
JOIN US AT VKX 2023!
The Vkind Experience (VKX)
is an immersive plant-based event celebrating travel, culture, and cuisine around the world as guests explore 11 experiential rooms while sampling an elevated fusion of world flavors.
JOIN THE VKIND COMMUNITY Download the Vkind app
on the
App Store
or
Google Play
to create your social profile and start sharing reviews of vegan businesses, watch original content, and explore the plant-based world with your friends! 
JOIN THE VEGECONOMY
Are you a vegan brand owner or professional?
Add your listing
to our business search platform to get more eyes on your vegan enterprise.
TAKE THE VEGECONOMY PLEDGE
Take the VegEconomy Pledge to show support for sustainable business practices and make a commitment to
Spend Like You Give A Damn
. 
WATCH & LEARN
Subscribe to our YouTube channel
for our latest shows, live events, interviews, videos, news, secret giveaways & more!
STREAM "PEELED", THE ALL-VEGAN COOKING COMPETITION SHOW
Produced by Vkind Studios in a limited 3-part web series,
Peeled
is the award-winning all-vegan cooking competition show that's on a search to find "America's Hottest Vegan Chef".
FOLLOW & SHARE
Our content is always entertaining, educational, and inclusive. Follow us everywhere on social media!
SHARE VEGAN RECIPES
Share your delicious vegan recipes
with the Vkind Community on our app and website.