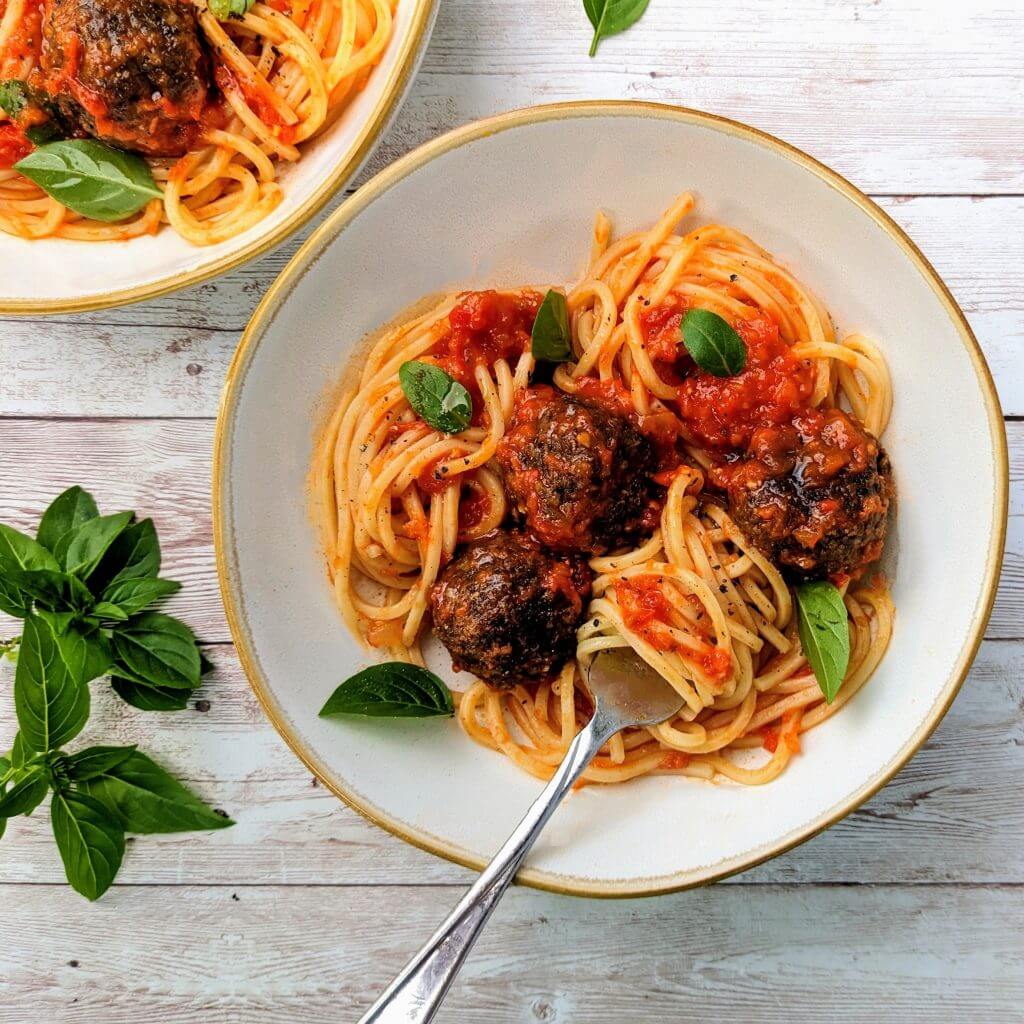 www.instagram.com/veganfeastphotography/
These amazing little vegan meatballs truly embody what a meatball should be. Crafted with exceptional ingredients, like mushrooms, oats, and walnuts, they maintain their perfect shape, boast an incredible texture, and delight the taste buds like no other. Whether you're adding them to a rich tomato sauce or creating delectable meatball hero sandwiches, these vegan meatballs are destined to become the ultimate crowd-pleaser!
My Story
When I delved into the world of veggie meatballs, I experimented with various ingredients. From black beans to kidney beans, potatoes to rice, and lentils to mushrooms, I explored a plethora of flavorful options. After savoring countless variations, I eventually stumbled upon the undeniable star of the show - the magnificent mushroom! With its rich, earthy notes and satisfyingly "meaty" texture, it became clear that mushrooms were destined to reign supreme in my quest for the perfect veggie meatball recipe.
Ingredients
1

tablespoon

olive oil

12

oz

cremini

baby bella mushrooms

1

medium onion

3

cloves

garlic

1½

cups

rolled oats

½

cup

walnuts or sunflower seeds if nut-free

2

tablespoons

soy sauce

2

tablespoons

balsamic vinegar

1

tablespoon

mushroom powder

1

teaspoon

marmite

1

teaspoon

dried oregano

¼

cup

whole wheat flour or buckwheat flour if gluten-free
Instructions
Add the mushrooms, onions and garlic to the bowl of your food processor, and pulse until finely chopped but not mushy.

Heat the olive oil in a large skillet, over medium high heat, and saute the chopped vegetables until all their liquid is evaporated.

Transfer to a large bowl.

While the vegetables are cooking, place the oats and walnuts in the food processor and process until finely ground.

Transfer to the bowl with the mushrooms and onions.

Add the soy sauce, balsamic vinegar, marmite, mushroom powder and flour to the bowl and mix well.

Scoop approximately 2 tablespoons of the mixture, and shape into balls.

I use a small 1 oz ice cream scoop for this step.

Cook the meatballs in a lightly oiled skillet, approximately 5 minutes, until browned on all sides.

Serve with tomato sauce, over pasta, as a meatball hero sandwich, or in any recipe that calls for meatballs.
_________________________
SUBSCRIBE TO OUR NEWSLETTER
Vkind Vibes is our popular weekly newsletter where we share the latest news, tastiest recipes, and hottest trends impacting the VegEconomy. SUBSCRIBE NOW!
WANT MORE?
JOIN US AT VKX 2023!
The Vkind Experience (VKX)
is an immersive plant-based event celebrating travel, culture, and cuisine around the world as guests explore 11 experiential rooms while sampling an elevated fusion of world flavors.
JOIN THE VKIND COMMUNITY Download the Vkind app
on the
App Store
or
Google Play
to create your social profile and start sharing reviews of vegan businesses, watch original content, and explore the plant-based world with your friends! 
JOIN THE VEGECONOMY
Are you a vegan brand owner or professional?
Add your listing
to our business search platform to get more eyes on your vegan enterprise.
TAKE THE VEGECONOMY PLEDGE
Take the VegEconomy Pledge to show support for sustainable business practices and make a commitment to
Spend Like You Give A Damn
. 
WATCH & LEARN
Subscribe to our YouTube channel
for our latest shows, live events, interviews, videos, news, secret giveaways & more!
STREAM "PEELED", THE ALL-VEGAN COOKING COMPETITION SHOW
Produced by Vkind Studios in a limited 3-part web series,
Peeled
is the award-winning all-vegan cooking competition show that's on a search to find "America's Hottest Vegan Chef".
FOLLOW & SHARE
Our content is always entertaining, educational, and inclusive. Follow us everywhere on social media!
SHARE VEGAN RECIPES
Share your delicious vegan recipes
with the Vkind Community on our app and website.