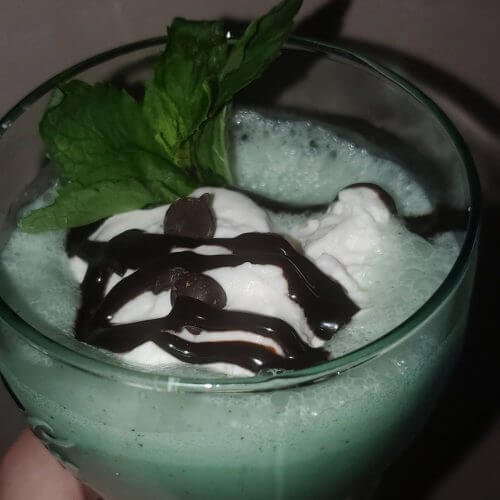 This is a healthy and vegan St. Patty's Shake with a beautiful green color. A perfect treat for any St. Patty's Day celebration!
My Story
I used to enjoy going to a specific not so vegan friendly fast food chain and ordering a not so vegan shamrock shake. What to do when you're craving something that hasn't been veganized yet? You make it yourself at home of course. This St. Patty's shake is a healthy version of the shake that some of us (including myself) enjoyed in another lifetime.
Ingredients
1

Banana

1/2

Cup

of Coconut Milk

or favorite non dairy milk

1/2

Cup

of Spinach

8 to 10

Fresh Mint Leaves

1

tsb of Green Spirulina

optional but recommended for a more green color and also provides more nutritional value

Toppings

optional

Coconut Whipped Cream

Chocolate Syrup

Chocolate Chips

Fresh Mint Leaves

Cherry
Instructions
1) Combine all ingredients in a blender and blend until smooth.
---
HOW TO GET INVOLVED
LEARN ABOUT PEELED, OUR BRAND NEW TV SHOW:
VKind is making VEGAN HISTORY by introducing the first and only 100% vegan cooking competition TV show!
Be sure to visit our new 
Peeled website
for the latest news, contests, giveaways, and raffles and to get VIP tickets to our Worldwide Premiere on Sept. 24th, 2022! Our exclusive red carpet premiere event will be held in the prestigious
Directors Guild of America Theater
in Hollywood, CA. Visit 
PeeledShow.Com
now to learn more!
CONTESTS & GIVEAWAYS:
Be the first to hear about our latest Giveaways, Contests, and Raffles by
following us on Instagram
where all of our giveaways are featured.
WATCH & LEARN:
We have so much exciting content on our
YouTube channel
with some amazing new shows!
Subscribe to our YouTube channel
for our latest shows, live events, interviews, videos, news, secret giveaway contests & more!
GET FEATURED:
We would love to publish & promote your delicious vegan recipes on our App, websites, and social media channels.
Submit your recipes here!
ADD YOUR LISTING:
Are you ready to attract customers and clients hyped on your values and what you offer? We're all about opening up more possibilities to support small to medium-sized vegan businesses, professionals, and companies, like YOU.
Add your listing now!
SUBSCRIBE FOR THE LATEST NEWS:
Get exclusive access to the latest vegan businesses, events, and plant-based news hot off the press.
Subscribe to our Newsletter.
Our mission is to connect vegan and veg-curious consumers with vegan brands, businesses, and professionals—the champions of conscious innovation.