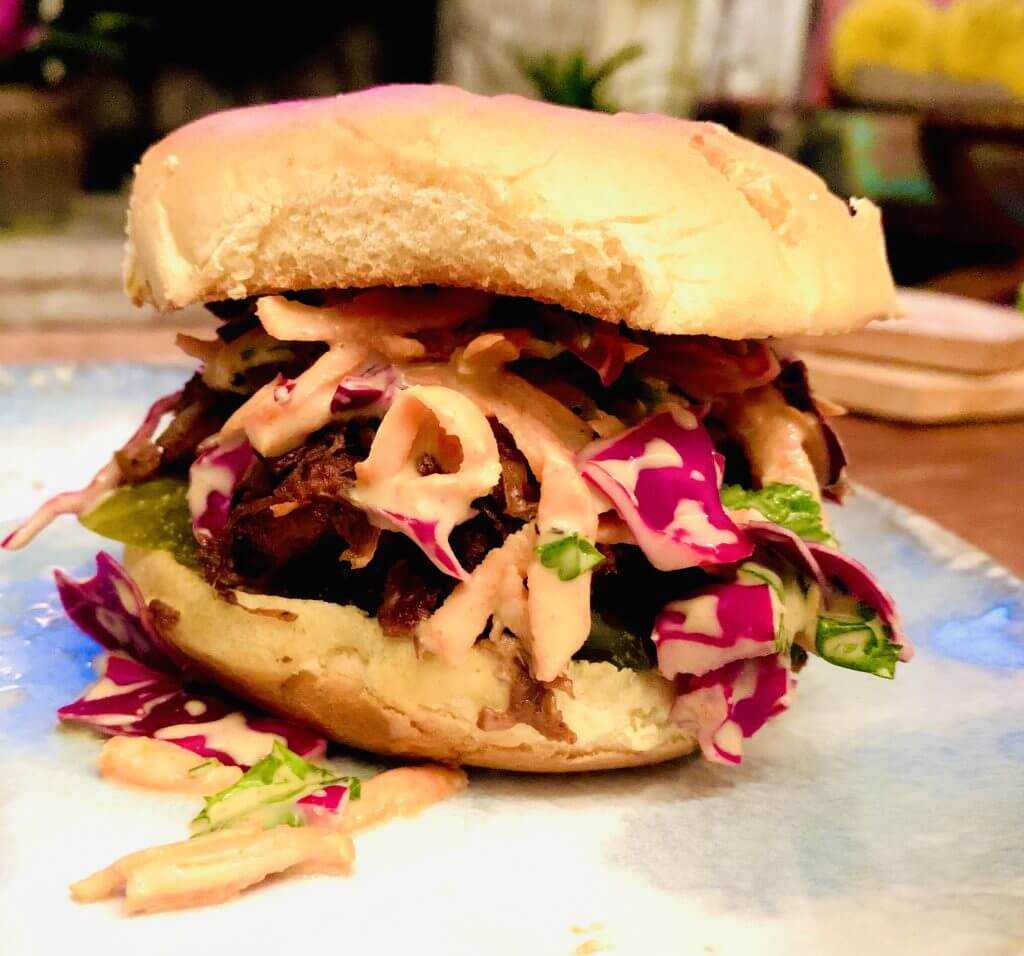 These pulled jackfruit sliders are the perfect vegan entree for your vegan-friendly Super Bowl or any party!
Ingredients
2

tbsp

olive oil

1

medium onion

sliced

5

garlic cloves

minced

3

cups

jackfruit

fresh canned

2

tsp

salt

1

tsp

pepper

2

tsp

cumin

1 1/2

tsp

chili powder

1 1/2

tsp

paprika

1/2

tsp

cayenne pepper

1

tsp

vegan Worcestershire

1

tsp

liquid smoke

2

cups

vegetable stock

3/4

cup

vegan bbq sauce

6

buns

vegan coleslaw
Instructions
Preheat your oven to 350ºF

Heat the oil over medium heat in a large pan or Dutch oven.

Add the onions and garlic, and cook until translucent.

Add the jackfruit, spices, Worcestershire, and liquid smoke. Stir to coat evenly.

Add the vegetable stock and bring to a simmer. Reduce heat, cover and simmer for 45 minutes, until the liquid is mostly absorbed and the fruit has broken down.

Spread the jackfruit on a prepared baking sheet.

Bake for 75 minutes, until the liquid has baked out and the jackfruit has a deeper brown color.

Pour the vegan barbecue sauce over the jackfruit.

Mix and return to the oven for 15 minutes.

Serve warm on vegan buns with vegan coleslaw.
---
HOW TO GET INVOLVED
LEARN ABOUT PEELED, OUR BRAND NEW TV SHOW:
VKind is making VEGAN HISTORY by introducing the first and only all vegan cast cooking competition TV show!
Be sure to visit our new 
Peeled website
for the latest news, contests, giveaways, and raffles. Visit 
PeeledShow.Com
now to learn more!
CONTESTS & GIVEAWAYS:
Be the first to hear about our latest Giveaways, Contests, and Raffles by
following us on Instagram
where all of our giveaways are featured.
WATCH & LEARN:
We have so much exciting content on our
YouTube channel
with some amazing new shows!
Subscribe to our YouTube channel
for our latest shows, live events, interviews, videos, news, secret giveaway contests & more!
GET FEATURED:
We would love to publish & promote your delicious vegan recipes on our App, websites, and social media channels.
Submit your recipes here!
ADD YOUR LISTING:
Are you ready to attract customers and clients hyped on your values and what you offer? We're all about opening up more possibilities to support small to medium-sized vegan businesses, professionals, and companies, like YOU.
Add your listing now!
SUBSCRIBE FOR THE LATEST NEWS:
Get exclusive access to the latest vegan businesses, events, and plant-based news hot off the press.
Subscribe to our Newsletter.
Our mission is to connect vegan and veg-curious consumers with vegan brands, businesses, and professionals—the champions of conscious innovation.