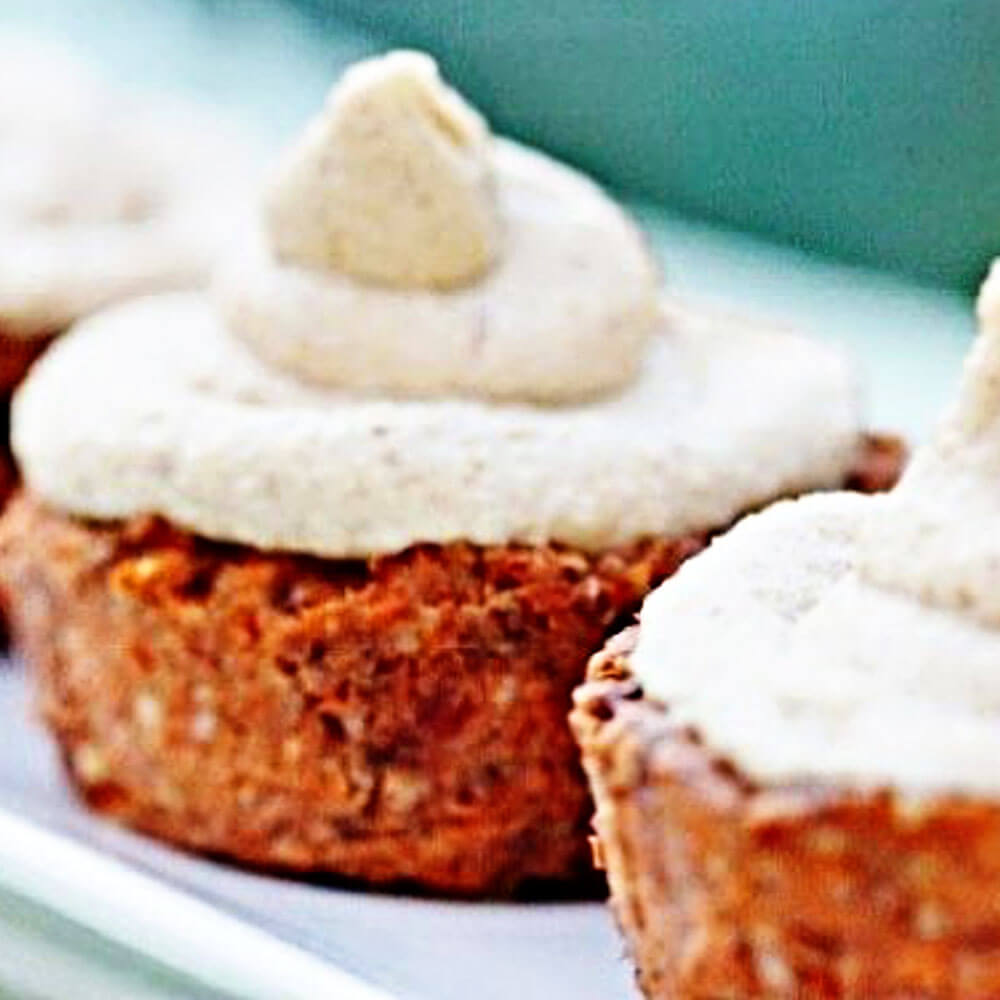 Carroty-goodness in a cup–sweet enough to be dessert, healthy enough to be breakfast! These carrot cake cupcakes are fully raw and vegan, flourless, gluten-free and SOS free. @jillianjstenzel
My Story
The original version of this recipe by nutritionist Gema Hamshaw can be found on One Green Planet - https://www.onegreenplanet.org/vegan-food/recipe-raw-vegan-carrot-cake-cupcakes-with-cream-cheese-frosting/. The only tools required are a knife, food processor and cupcake mold (even the knife is debatable)! Even after modifying the original to fit within the parameters of my food sensitivities and what I had at home, these turned out great! I don't do well with cashews, so I substituted with hemp seeds. I also halved the amount of hemp seeds and threw in a banana to add more bulk with less fat to the glaze. I used pecans instead of walnuts for the "cake" (YUM). Since pecans are sweeter than walnuts, I was also able to reduce the amount of sweetener used. I didn't have raisins on hand as in the original recipe, so I topped the cupcakes with blueberries! Perfectly sweet and slightly tart addition that added a nice color accent. Pro tip: blue and orange are complimentary colors on the color wheel. Plus, blueberries are one of the healthiest fruits around!
Ingredients
Cupcakes:
1

cup

pecans

7-10

medjool dates

2

cups

grated raw carrots

squeezed well through cheesecloth or with paper towel to remove as much excess moisture as possible (this is important!)

1

tsp

cinnamon

1/2

tsp

ginger

Optional: 1/8 tsp of salt

but it won't be SOS free
Hemp Glaze:
1/2

cup

hemp seeds

1

very ripe banana

1/4

cup

maple syrup

20

blueberries for garnish

1

tsp

lemon juice

more to taste if you'd like the glaze to be more sour and cream-cheese-frosting-like

Optional: dash of sea salt

Water
Instructions
(NOTE: the original recipe calls for 1 cup of cashews and no hemp seeds or banana. I used hemp seeds because I have a cashew sensitivity, and lowered the amount of seeds used and added the banana to make it lower in fat! You can use 1 cup of cashews instead of the hemp seeds/banana combo, and the consistency will be more like frosting and less like creamy glaze).

1. Process the dates and pecans or walnuts in a food processor fitted with the S blade till they are crumbly, but holding together.

2. Add grated carrots and spices. Process till the mix has taken the form of a smooth "dough."

3. Move the carrot cake dough into a separate bowl and rinse out your food processor so it can be used for the glaze.

4. For the glaze: rinse hemp seeds and place in your food processor with the banana, maple syrup, lemon and salt (optional). Process until the mixture is well combined. With the motor running, add just enough water to get the consistency you want. You won't need much.

5. Push the carrot cake dough into six muffin tins or ramekins, add the glaze and top with blueberries.

6. Pop in the freezer for about an hour and enjoy!
---
HOW TO GET INVOLVED
LEARN ABOUT PEELED, OUR BRAND NEW TV SHOW:
VKind is making VEGAN HISTORY by introducing the first and only all vegan cast cooking competition TV show!
Be sure to visit our new 
Peeled website
for the latest news, contests, giveaways, and raffles. Visit 
PeeledShow.Com
now to learn more!
CONTESTS & GIVEAWAYS:
Be the first to hear about our latest Giveaways, Contests, and Raffles by
following us on Instagram
where all of our giveaways are featured.
WATCH & LEARN:
We have so much exciting content on our
YouTube channel
with some amazing new shows!
Subscribe to our YouTube channel
for our latest shows, live events, interviews, videos, news, secret giveaway contests & more!
GET FEATURED:
We would love to publish & promote your delicious vegan recipes on our App, websites, and social media channels.
Submit your recipes here!
ADD YOUR LISTING:
Are you ready to attract customers and clients hyped on your values and what you offer? We're all about opening up more possibilities to support small to medium-sized vegan businesses, professionals, and companies, like YOU.
Add your listing now!
SUBSCRIBE FOR THE LATEST NEWS:
Get exclusive access to the latest vegan businesses, events, and plant-based news hot off the press.
Subscribe to our Newsletter.
Our mission is to connect vegan and veg-curious consumers with vegan brands, businesses, and professionals—the champions of conscious innovation.