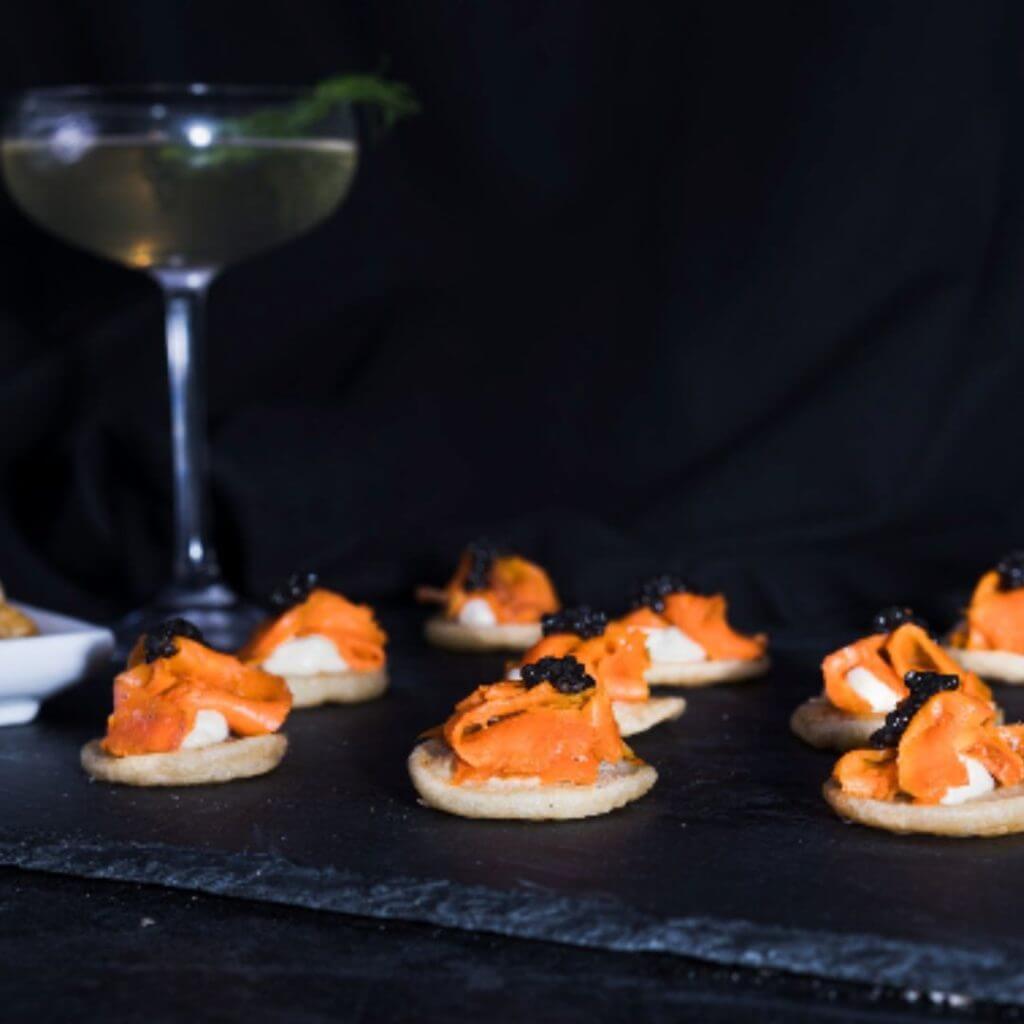 http://instagram.com/nicolederseweh
Blinis with caviar is a classic pairing for those who aren't plant-based. Now, those of us who are don't have to feel left out of the fancy party snacks any longer! 
Ingredients
1

package Love Lox

or any vegan lox

1

jar Caviart black kelp caviar

6

sprigs fresh dill

1

log

⅔ cup Rebel Cheese
For the Blinis
1 1/2

cups

unbleached gluten-free all-purpose flour

2

tablespoons

baking powder

2

tablespoons

ground flax seeds

1/2

teaspoon

sea salt

1/4

teaspoon

freshly ground black pepper

2

cups

unsweetened oat milk

1/2

cup

Melt Organic vegan butter

1/2

cup

cooked quinoa

1

tablespoon

safflower oil

plus more as needed
Instructions
Make The Blini
Combine flour, baking powder, flax egg, salt and pepper in a large bowl and stir together. Add the oat milk, vegan butter and quinoa. Combine thoroughly.

*Batter can be made ahead and will keep, covered, in the refrigerator for up to a day. Bring to room temperature before cooking.

Heat oil in a nonstick skillet over medium-low heat. Add 1 tablespoon of batter to the pan and cook on each side until golden brown (1-2 minutes). Repeat with remaining batter, adding oil as needed. Keep blinis on a baking sheet in the oven on warm to hold temperature until ready to serve.

In a blender mix fresh dill with vegan cream cheese and blend on high 2 minutes until well-combined. Set aside.

Start to assemble your blinis by 1st topping them with a small dollop of the dill cream cheese, add lox love and a small about of the kelp caviar, garnish with fresh dill and serve
Notes
These impressive appetizers were made for the "Peeled" red carpet premiere. Chef Nicole created a whole food plant-based lox substitute made from carrots and retains all the flavors of the sea. Blinis with caviar is a classic pairing for those who aren't plant-based. Now, those of us who are don't have to feel left out of the fancy party snacks any longer! 
---
HOW TO GET INVOLVED
LEARN ABOUT PEELED, OUR BRAND NEW TV SHOW:
VKind is making VEGAN HISTORY by introducing the first and only all vegan cast cooking competition TV show!
Be sure to visit our new 
Peeled website
for the latest news, contests, giveaways, and raffles. Visit 
PeeledShow.Com
now to learn more!
CONTESTS & GIVEAWAYS:
Be the first to hear about our latest Giveaways, Contests, and Raffles by
following us on Instagram
where all of our giveaways are featured.
WATCH & LEARN:
We have so much exciting content on our
YouTube channel
with some amazing new shows!
Subscribe to our YouTube channel
for our latest shows, live events, interviews, videos, news, secret giveaway contests & more!
GET FEATURED:
We would love to publish & promote your delicious vegan recipes on our App, websites, and social media channels.
Submit your recipes here!
ADD YOUR LISTING:
Are you ready to attract customers and clients hyped on your values and what you offer? We're all about opening up more possibilities to support small to medium-sized vegan businesses, professionals, and companies, like YOU.
Add your listing now!
SUBSCRIBE FOR THE LATEST NEWS:
Get exclusive access to the latest vegan businesses, events, and plant-based news hot off the press.
Subscribe to our Newsletter.
Our mission is to connect vegan and veg-curious consumers with vegan brands, businesses, and professionals—the champions of conscious innovation.