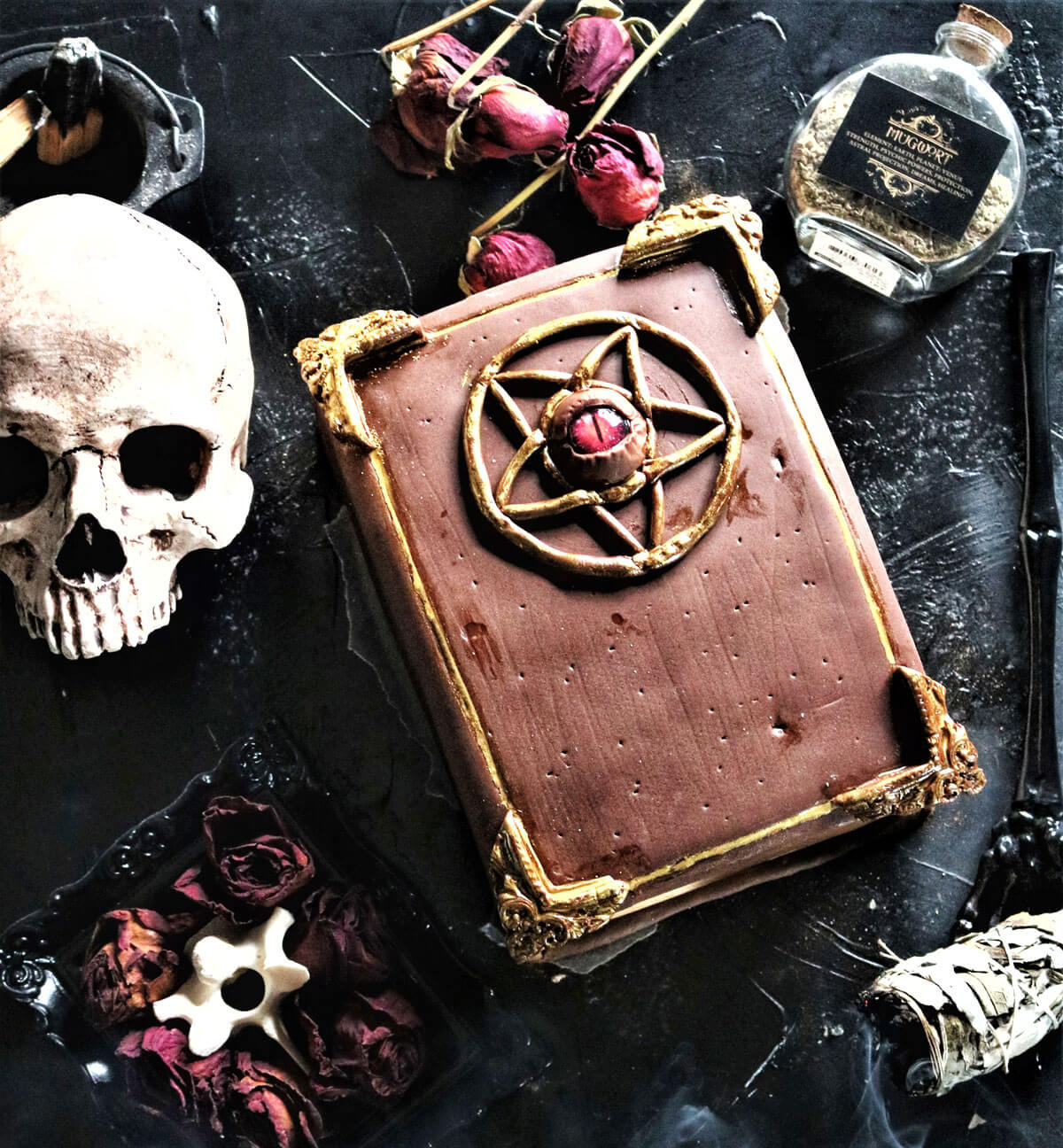 vKind Featured Halloween Recipe
Vegan Double Dark Chocolate Cake with Cardamom Buttercream and Edible Glass Demon Eye
"My creations exude my adoration of the dark, the macabre, the Goth subculture that I hold dear and my Nigerian heritage that runs through my veins. Nature provides some of the more dark shades in her wares, and I love that in my creations. They are an extension of myself to you. Food is art. Nature is medicine. Darkness is beautiful. Combined – they are powerful. ~ Nnaus A.O. Feratu"
Recipe, Photography and Food Styling by Nnaus A.O. Feratu / Goth In The Raw
instagram.com/gothintheraw
This delightful Halloween creation is a Vegan Double Dark Chocolate Cake with Cardamom Buttercream and Edible Glass Demon Eye (created by hand).
Ingredients
For The Cake:
4

cups

white unbleached flour

½

cup

carob powder

½

cup

cacao powder

2

tsps

baking soda

2

tsps

salt

1

cup

roughly chopped bittersweet vegan baking chocolate or vegan chocolate chunks

3

cups

organic cane sugar

½

cup

+ 1 tbsp aquafaba

chickpea water

1

cup

olive oil

3

cups

almond milk or other plant-based milk of choice

2

tbsps

madagascar vanilla extract or vanilla bean paste
For The Buttercream:
1

cup

2 sticks vegan butter, softened

4-5

cups

powdered sugar

sifted

1 ½

teaspoon

Madagascar vanilla extract or 1 teaspoon vanilla bean paste

3-4

tablespoons

full fat coconut milk

adjust with more or less to adjust the consistency, if needed
For The Decorations:
Fondx Brown vegan fondant

Fondx White vegan fondant

Vegan edible gold luster dust

Isomalt granules for the glass eye

Mini eye silicone mold

Edible pupils on edible paper
Instructions
Preheat the oven to 350 degrees. Butter your 9x13 inch cake pan and place in the fridge until needed.

In a bowl, sift all of your dry ingredients: flour, carob powder, cocoa powder, baking powder, salt; set aside.

In a stand mixer or by hand, whisk all wet ingredients: milk, oil, vanilla, aquafaba; until well combined.

Next, add the dry ingredients until batter is smooth and lustrous; gently fold in the chocolate.

Pour all of the batter into the cake pan; place in the oven and bake for 30-40 minutes until the tooth inserted into the center comes out clean.

Once done, set to let cool overnight (in the fridge is okay as well).

With the cake completely cooled, remove from the cake pan (carefully) and divide the cake into two equal halves. To make sure the cakes are flat, use a serrated knife to carefully trim down the bump of the cake.

Frost the top of your first layer with the buttercream and top with the other half of the cake. Frost the top and sides with buttercream with a crumb coating; place in the freezer for 1 hour.

While the cake is in firming, roll out your white fondant for the sides of the cake and the brown fondant for the spine and cover of the book, making sure the fondant is ¼ inch thick.

Remove the cake from the fridge and attach the fondant to the cake (tip: use a brush to with a bit of water the brush the sides and top of the cake before carefully/gently adding the fondant). Using a fondant smoother, gently smooth down the sides and top making sure there are no air bubbles present.

With the spare brown fondant, roll a small amount into thin strands to create the pentagram and a small amount of fondant into a thin long strand for the circle of the pentagram. Secure them with a little bit of water and a small brush.

Optional: The Glass Demon Eye is made with Isomalt and edible eye wafer paper.

Conjure, cut and serve to the mortals and immortals of your choice.
Submit your own Halloween recipes to be featured on our app!
---
HOW TO GET INVOLVED
LEARN ABOUT PEELED, OUR BRAND NEW TV SHOW:
VKind is making VEGAN HISTORY by introducing the first and only 100% vegan cooking competition TV show!
Be sure to visit our new 
Peeled website
for the latest news, contests, giveaways, and raffles and to get VIP tickets to our Worldwide Premiere on Sept. 24th, 2022! Our exclusive red carpet premiere event will be held in the prestigious
Directors Guild of America Theater
in Hollywood, CA. Visit 
PeeledShow.Com
now to learn more!
CONTESTS & GIVEAWAYS:
Be the first to hear about our latest Giveaways, Contests, and Raffles by
following us on Instagram
where all of our giveaways are featured.
WATCH & LEARN:
We have so much exciting content on our
YouTube channel
with some amazing new shows!
Subscribe to our YouTube channel
for our latest shows, live events, interviews, videos, news, secret giveaway contests & more!
GET FEATURED:
We would love to publish & promote your delicious vegan recipes on our App, websites, and social media channels.
Submit your recipes here!
ADD YOUR LISTING:
Are you ready to attract customers and clients hyped on your values and what you offer? We're all about opening up more possibilities to support small to medium-sized vegan businesses, professionals, and companies, like YOU.
Add your listing now!
SUBSCRIBE FOR THE LATEST NEWS:
Get exclusive access to the latest vegan businesses, events, and plant-based news hot off the press.
Subscribe to our Newsletter.
Our mission is to connect vegan and veg-curious consumers with vegan brands, businesses, and professionals—the champions of conscious innovation.