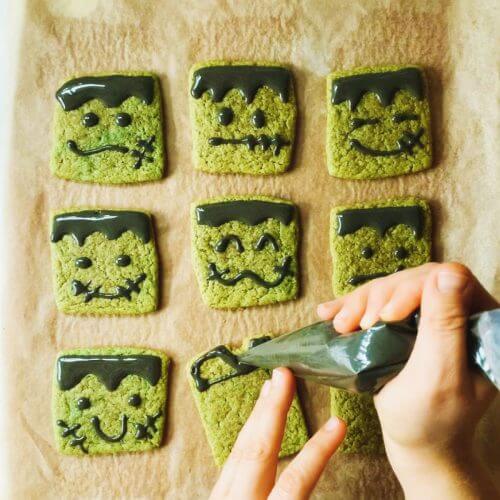 https://samcookskindness.com/
https://www.instagram.com/samcookskindness/
These DIY Frankenstein Cookies are the perfect Halloween family activity & treat! Matcha Sugar Cookies are soft, chewy & cut-out friendly! Decorate with naturally colored, Vegan Chocolate Royal Icing to look like just like little Frankensteins!
Ingredients
Wet Ingredients
3

tbsp

melted vegan butter

1

tsp

vanilla extract

2

tsp

flaxseed

1/4

cup

plant based milk

2-4

drops

natural green food dye*

optional for a brighter green cookie
Dry Ingredients
1/2

cup

organic cane sugar

1

cup

all purpose flour (120g)

1/2

cup

almond flour (56g)

2 1/2

tbsp

tablespoons arrowroot flour (23g)

1

tbsp

matcha powder

1/4

tsp

salt

1/2

tsp

baking soda
Vegan Royal Icing (makes enough for 2-3 batches of cookies)
2 1/2

tbsp

tablespoons aquafaba liquid from a can of chickpeas

low sodium preferred

1

cup

organic confectioner's sugar

1/2

tbsp

food-grade activated charcoal powder*

1

tbsp

cocoa powder
Instructions
Matcha Frankenstein Cookies
In a small bowl whisk together wet ingredients and set aside

In another mixing bowl, whisk together all dry ingredients

Add wet to dry ingredients, mix to combine. Dough may feel dry at first, don't add more milk. Use your hands to knead it together until just combined and no dry flour is left in bowl.

Lightly flour a parchment sheet and place dough on top. Lightly dust top of dough with flour and roll out to about about 1/3 inch thick

Gently cut out desired shapes and transfer to a parchment lined cookie sheet, leaving a little space between each cookie. Alternatively, for Frankenstein cookies, place parchment on a large cutting board and carefully use a pizza cutter to cut into 12-14 rectangles or squares. (Reroll any extra dough and cut into desired shape)

Bake for 8-9 minutes and allow to cool for 10-15 minutes before moving to wire rack. Allow to fully cool before icing.
Black Vegan Royal Icing
In very clean mixing bowl add aquafaba. Use stand or hand mixer to whip aquafaba for about 5-8 minutes until stiff peaks form. (When ready mixture should be thick enough to stay in bowl when flipped upside down)

Slowly sift in confectioner's sugar, charcoal and cocoa powder and continue to beat on a low speed until thick.

Put into a piping bag or a zip lock bag with a small cut at the corner. (start the cut very small and make bigger if needed). Decorate cooled cookies as desired! Icing will firm up the longer they sit out.
Notes
*Matcha & Food Coloring- 
The better quality your matcha is, the brighter green it will be. If color is really important to you in these cookies, make sure you have a vibrant green matcha, otherwise add a natural food dye in with your wet ingredients to get a brighter green.
** Royal Icing- Getting NATURAL grey-black icing can be difficult. Avoid adding too much charcoal, as it may affect the texture of your icing. You can leave out the charcoal  and cocoa powder and color this icing any color you'd like. The cocoa powder helps darken this icing and is also gives it a yummy chocolate flavor.
Storage- Allow icing to dry fully before storing in a air tight container. Icing will get harder the longer is sits out. Cookies will keep in a container on the counter for up to a week
https://samcookskindness.com/diy-frankenstein-cookies-vegan-matcha-sugar-cookies/
---
HOW TO GET INVOLVED
LEARN ABOUT PEELED, OUR BRAND NEW TV SHOW:
VKind is making VEGAN HISTORY by introducing the first and only 100% vegan cooking competition TV show!
Be sure to visit our new 
Peeled website
for the latest news, contests, giveaways, and raffles and to get VIP tickets to our Worldwide Premiere on Sept. 24th, 2022! Our exclusive red carpet premiere event will be held in the prestigious
Directors Guild of America Theater
in Hollywood, CA. Visit 
PeeledShow.Com
now to learn more!
CONTESTS & GIVEAWAYS:
Be the first to hear about our latest Giveaways, Contests, and Raffles by
following us on Instagram
where all of our giveaways are featured.
WATCH & LEARN:
We have so much exciting content on our
YouTube channel
with some amazing new shows!
Subscribe to our YouTube channel
for our latest shows, live events, interviews, videos, news, secret giveaway contests & more!
GET FEATURED:
We would love to publish & promote your delicious vegan recipes on our App, websites, and social media channels.
Submit your recipes here!
ADD YOUR LISTING:
Are you ready to attract customers and clients hyped on your values and what you offer? We're all about opening up more possibilities to support small to medium-sized vegan businesses, professionals, and companies, like YOU.
Add your listing now!
SUBSCRIBE FOR THE LATEST NEWS:
Get exclusive access to the latest vegan businesses, events, and plant-based news hot off the press.
Subscribe to our Newsletter.
Our mission is to connect vegan and veg-curious consumers with vegan brands, businesses, and professionals—the champions of conscious innovation.