Subscribe to our YouTube Channel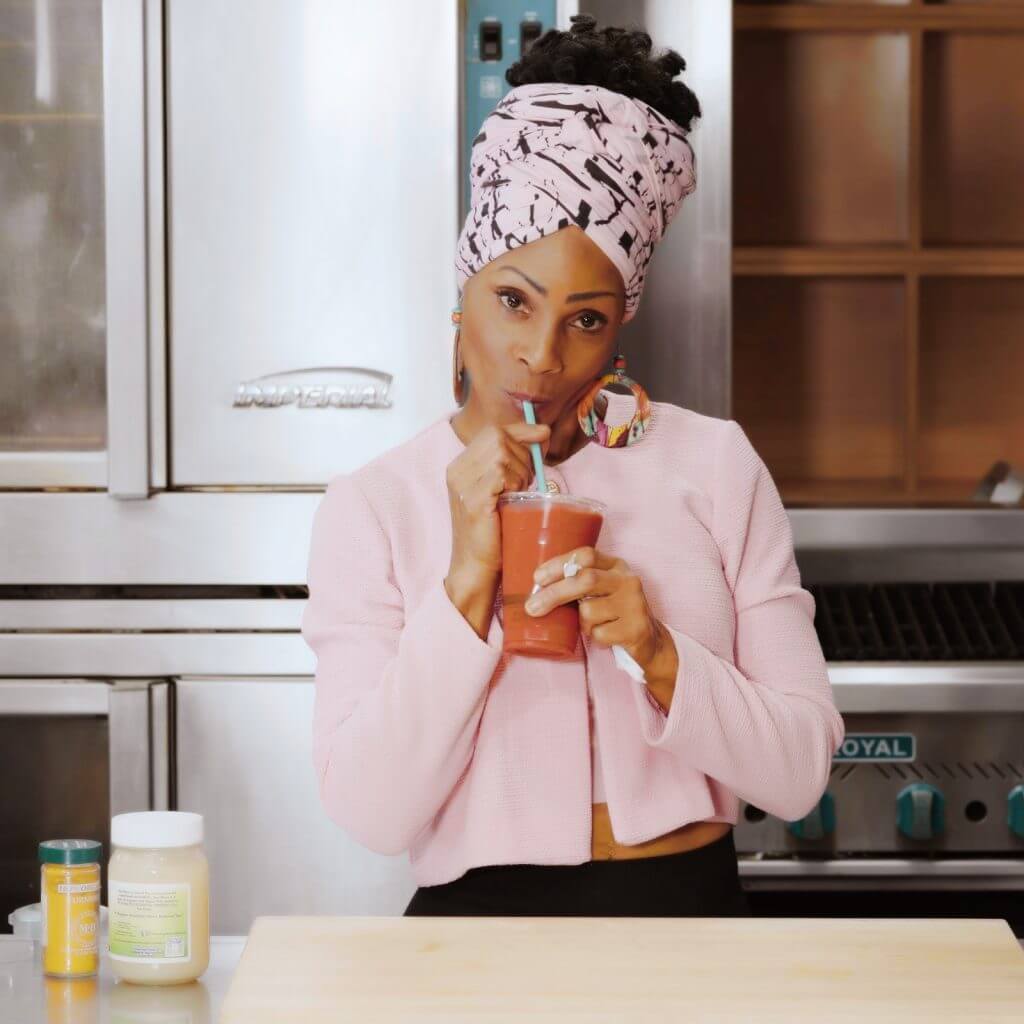 A gorgeous, deep-red smoothie filled with the best ingredients to support an active and vibrant life.
Ingredients
Juice
1

medium beet

peeled and quartered

2

granny smith apples

quartered

3

large carrots
Smoothie
Beet-Apple-Carrot Juice

2-3

cups

mixed frozen fruit

2

tablespoons

golden sea moss

1

teaspoon

turmeric powder
Instructions
Juice beet, apples, and carrots, then add to a high-speed blender (i.e. Vitamix)

Add frozen fruit, sea moss, and turmeric.

Blend until smooth and serve immediately. Enjoy!
Notes
Smoothies like this are such a treat that makes it easy to stay healthy. I have sea moss everyday and add it to all of my smoothies because it powerfully supports improved digestion, increased nutrient absorption, and thyroid health. Turmeric helps reduce inflammation and supports joints, which is why I'm still bustin' a move in my 70's!
---
HOW TO GET INVOLVED
LEARN ABOUT PEELED, OUR BRAND NEW TV SHOW:
VKind is making VEGAN HISTORY by introducing the first and only all vegan cast cooking competition TV show!
Be sure to visit our new 
Peeled website
for the latest news, contests, giveaways, and raffles. Visit 
PeeledShow.Com
now to learn more!
CONTESTS & GIVEAWAYS:
Be the first to hear about our latest Giveaways, Contests, and Raffles by
following us on Instagram
where all of our giveaways are featured.
WATCH & LEARN:
We have so much exciting content on our
YouTube channel
with some amazing new shows!
Subscribe to our YouTube channel
for our latest shows, live events, interviews, videos, news, secret giveaway contests & more!
GET FEATURED:
We would love to publish & promote your delicious vegan recipes on our App, websites, and social media channels.
Submit your recipes here!
ADD YOUR LISTING:
Are you ready to attract customers and clients hyped on your values and what you offer? We're all about opening up more possibilities to support small to medium-sized vegan businesses, professionals, and companies, like YOU.
Add your listing now!
SUBSCRIBE FOR THE LATEST NEWS:
Get exclusive access to the latest vegan businesses, events, and plant-based news hot off the press.
Subscribe to our Newsletter.
Our mission is to connect vegan and veg-curious consumers with vegan brands, businesses, and professionals—the champions of conscious innovation.