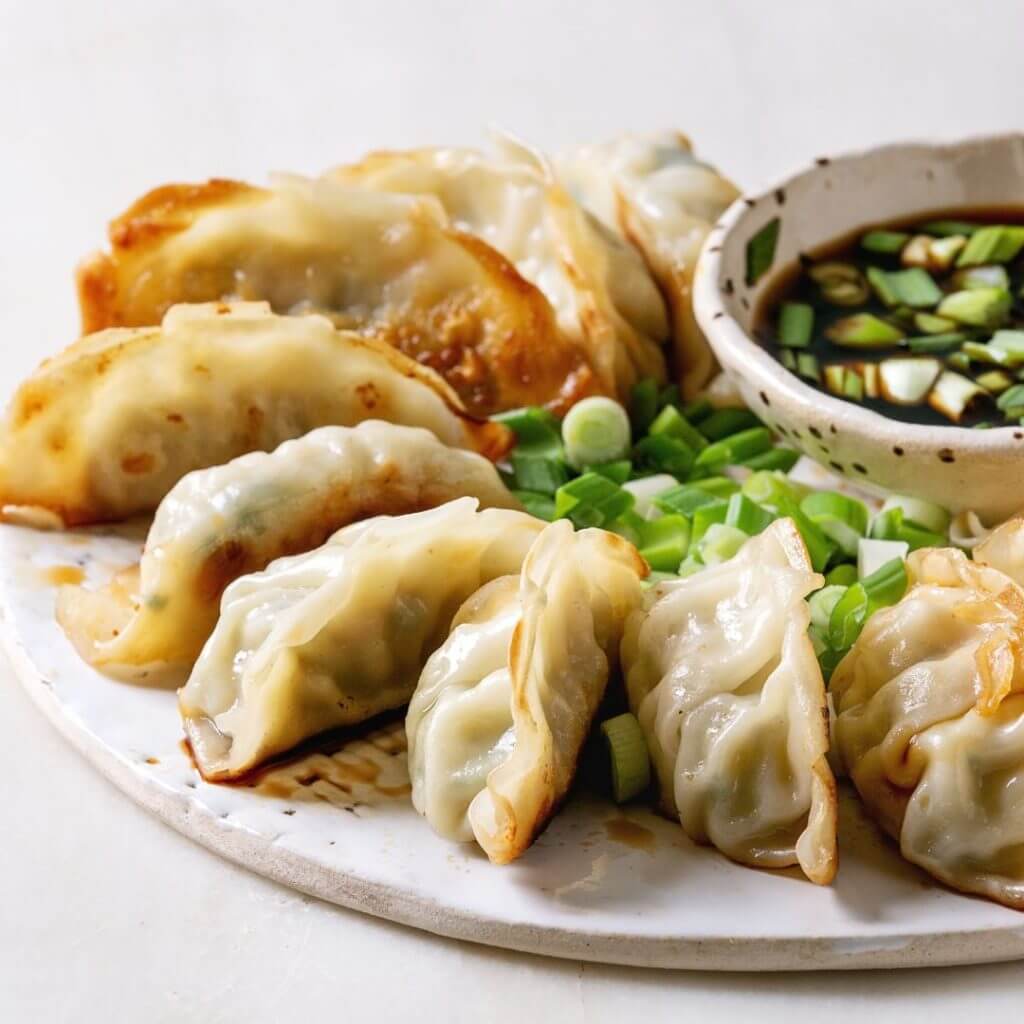 http://instagram.com/southernveganchef
Traditional Asian dumplings are made with meat, usually pork and shrimp. Using OmniPork and Beyond The Butcher Beef meat alternatives, you can now enjoy the traditional flavors you love in a plant-based way!
Ingredients
1/2

lb

OmniPork Ground

1/2

lb

Beyond The Butcher Ground

½

lb

1 cup red miso paste

1 ½

tablespoon

ginger

freshly grated

1

tablespoon

garlic

minced

2

tablespoon

soy sauce or tamari

2

tablespoon

shaoxing wine

2

teaspoons

rice vinegar

2

tablespoon

cilantro

fresh chopped

1 ½

teaspoon

salt

¼

teaspoon

white pepper

2

lb

napa cabbage

finely shredded

2

tablespoons

peanut oil

4

green onions

chopped

5

oz

shiitake mushrooms

ground

2

tablespoons

toasted sesame oil

Salt and pepper

to taste

Prepared dumpling wrappers

Water

as needed
Instructions
Divide OminPork and Beyond The Butcher Beef into separate bowls.

Saute cabbage and mushrooms in 2 tablespoons peanut oil until tender.

Add minced garlic and ginger; sauté 2 minutes.

Transfer to a strainer and allow to drain over a bowl 10-15 minutes.

Combine remaining ingredients in a large mixing bowl. Add drained cabbage and combine.

Divide cabbage mixture between OmniPork & Beyond The Butcher and thoroughly combine each. Cool completely before filling dumplings.

Fill dumplings with 1 teaspoon filling.

Use water to crimp and seal dumplings.

Heat 2 tablespoons of peanut oil in a large skillet over medium-high heat.

Place dumplings flat-side down in a pan. Sear 2-3 minutes or until brown on one side.

Pour 4-6 oz water over dumplings, cover, and cook until water has evaporated.

Transfer dumplings to a warming dish. Will keep for reheating 1-2 days.
Notes
Dumpling-making is a tedious process best shared with family and friends over libations and laughter. If this is your first time making potstickers, there's a good chance your first few dumplings will be super-ugly. It's totally fine!
Give yourself permission to embrace imperfection for this one because once you get the hang of it, you've got an impressive skill in your culinary arsenal to surprise and delight all you share it with. I recommend watching a couple of Asian potsticker dumpling making videos on YouTube to get the basics. 
The 2 most important tips are:
Don't overfill your dumpling wrappers; use no more than 1 teaspoon of filling per wrapper.
2. Use water liberally to make sure dumplings are sealed properly. 
---
HOW TO GET INVOLVED
LEARN ABOUT PEELED, OUR BRAND NEW TV SHOW:
VKind is making VEGAN HISTORY by introducing the first and only all vegan cast cooking competition TV show!
Be sure to visit our new 
Peeled website
for the latest news, contests, giveaways, and raffles. Visit 
PeeledShow.Com
now to learn more!
CONTESTS & GIVEAWAYS:
Be the first to hear about our latest Giveaways, Contests, and Raffles by
following us on Instagram
where all of our giveaways are featured.
WATCH & LEARN:
We have so much exciting content on our
YouTube channel
with some amazing new shows!
Subscribe to our YouTube channel
for our latest shows, live events, interviews, videos, news, secret giveaway contests & more!
GET FEATURED:
We would love to publish & promote your delicious vegan recipes on our App, websites, and social media channels.
Submit your recipes here!
ADD YOUR LISTING:
Are you ready to attract customers and clients hyped on your values and what you offer? We're all about opening up more possibilities to support small to medium-sized vegan businesses, professionals, and companies, like YOU.
Add your listing now!
SUBSCRIBE FOR THE LATEST NEWS:
Get exclusive access to the latest vegan businesses, events, and plant-based news hot off the press.
Subscribe to our Newsletter.
Our mission is to connect vegan and veg-curious consumers with vegan brands, businesses, and professionals—the champions of conscious innovation.