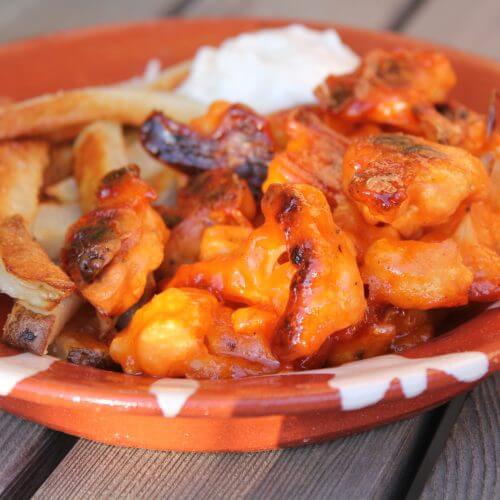 www.instagram.com/gillianmakingthings/
Crispy oven-baked buffalo cauliflower wings smothered in sweet and spicy buffalo sauce.
My Story
This recipe is my raison d'etre, and perhaps the only reason I get invited to vegan movie nights. I could not for the life of me find an oven-baked buffalo cauliflower that ticked all the boxes (I've gone through so many batches of limp cauliflower wings), so I came up with my own batter and have been tweaking it and the process as a whole for about a year. While all this may sound dramatic, I can assure you that if made correctly, this buffalo cauliflower will become a necessary part of your life. Tasters of this recipe have likened it to an addictive substance, one avid glutton went so far as to say she needed to "cleanse" from it. Don't say I didn't warn you.
Ingredients
500

g

cauliflower

cut into bite sized pieces

Batter

½

cup

flour

7

tbsp

cornstarch

½

tsp

salt

½

tsp

black pepper

¾

cup

plant milk

I use soy

¼

cup

Frank's Red Hot Buffalo Sauce

Sauce

½

cup

Frank's Red Hot Buffalo Sauce

¼

cup

canola oil

any neutral-tasting oil will do

3

tbsp

corn syrup

maple syrup, agave, brown rice syrup will all work too
Instructions
Preheat oven to 420F.

Add all of the batter ingredients (flour, cornstarch, salt, pepper, Frank's Red Hot Buffalo Sauce, and plant milk) to a large bowl. Mix vigorously until combined.

Add the cauliflower florets to the batter and fold together. Be patient and fold for at least 2 minutes to make sure all the florets are well covered in batter.

Line a large baking sheet with parchment paper and use your hands to place the battered florets on the pan, spreading them out as much as possible. I don't recommend dumping it all onto the pan and spreading it out because it will all bake into one big piece. Optional: drizzle with 3 tbsp canola oil, this will improve the crispiness and overall texture.

Bake for 40-45 minutes. To check for doneness, lift up one of the florets with a fork; you want the bottom to be nicely browned.

Mix the sauce ingredients together (canola oil, Frank's Red Hot Buffalo Sauce, and corn syrup) and drizzle over the cauliflower. Bake for an additional 5 minutes.

Remove from oven and enjoy!
---
HOW TO GET INVOLVED
LEARN ABOUT PEELED, OUR BRAND NEW TV SHOW:
VKind is making VEGAN HISTORY by introducing the first and only 100% vegan cooking competition TV show!
Be sure to visit our new 
Peeled website
for the latest news, contests, giveaways, and raffles and to get VIP tickets to our Worldwide Premiere on Sept. 24th, 2022! Our exclusive red carpet premiere event will be held in the prestigious
Directors Guild of America Theater
in Hollywood, CA. Visit 
PeeledShow.Com
now to learn more!
CONTESTS & GIVEAWAYS:
Be the first to hear about our latest Giveaways, Contests, and Raffles by
following us on Instagram
where all of our giveaways are featured.
WATCH & LEARN:
We have so much exciting content on our
YouTube channel
with some amazing new shows!
Subscribe to our YouTube channel
for our latest shows, live events, interviews, videos, news, secret giveaway contests & more!
GET FEATURED:
We would love to publish & promote your delicious vegan recipes on our App, websites, and social media channels.
Submit your recipes here!
ADD YOUR LISTING:
Are you ready to attract customers and clients hyped on your values and what you offer? We're all about opening up more possibilities to support small to medium-sized vegan businesses, professionals, and companies, like YOU.
Add your listing now!
SUBSCRIBE FOR THE LATEST NEWS:
Get exclusive access to the latest vegan businesses, events, and plant-based news hot off the press.
Subscribe to our Newsletter.
Our mission is to connect vegan and veg-curious consumers with vegan brands, businesses, and professionals—the champions of conscious innovation.