Stressed is desserts spelt backwards -Unknown
National Dessert Day! What better excuse is there to de-stress with your favorite treats? Making a plant-based dessert yourself is one of the most rewarding (not-to-mention mindful) ways to unwind and indulge. 
As any vegan dessertie knows, anything they can make, we can make vegan! The sweet, the sour. The juicy, the flaky. The creamy, the crumbly. 
A plant-based kitchen's only limitation is cruelty! 
How will you celebrate Dessert Day? Some ideas from the vKind team:
Potluck dessert party

. Celebrate with friends and BYOD! 

Dessert crawl.

Find out how many sweet shops are near you and sample them all

(note: sharing is caring and will prevent you from falling to food coma your 3rd stop in).

Get creative!

Designing your own recipe from scratch is not only fun, but also super rewarding, and an activity you can do with anyone.

Learn.

Discovering how to make vegan versions of both iconic and obscure desserts is sometimes easy, and other times an exciting challenge! Are you up for it?
If making dessert isn't your cup of afternoon tea, we've got you covered. Check out three of our favorite dessert finds available for delivery—all 100% vegan and women-owned!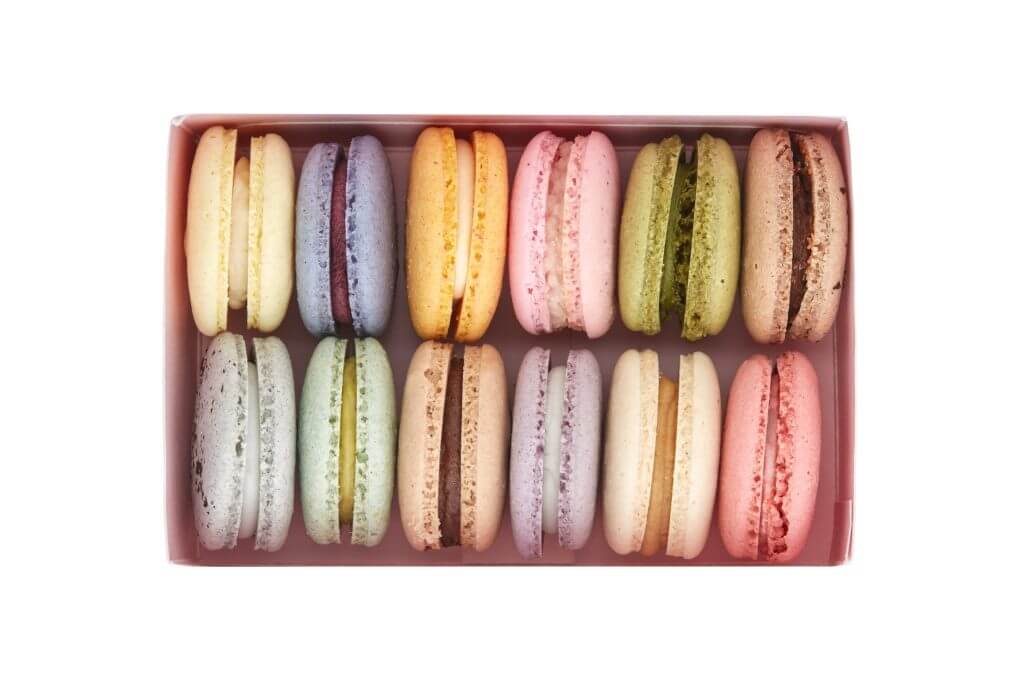 1. Verón Macarons – Verón was created by founder Shera Fournier to satisfy her sweetest indulgences while honoring her deeply held values of respecting all living beings. French macarons are a nearly 200-year-old delicacy of Parisian tea rooms, their legacy stemming from a uniquely light texture in a bite-sized cookie.
Shera's goal in creating our specialty vegan macarons was to match the experience of eating these time-tested French meringues and make them accessible to a modern plant-based audience!
2. Belle Sweets – Belle Sweets is a gourmet cookie shop that was started in 2017 by owner Kala Vaughn as a southern-inspired vegan bakery. She felt there was a need in the Phoenix, AZ area for southern-style desserts that everyone could enjoy—with gluten free options, too!
Over time, Kala evaluated the best-selling items from the bakery and began to revamp her business into a gourmet cookie and brownie shop, expanding her reach across Arizona and soon across the nation. Savor Belle Sweets' treats knowing you're supporting vegan women of color with every bite you take.
3. Maya's Cookies – Founded in 2015 by Maya Madsen, Maya's Cookies is quickly becoming America's #1 black-owned gourmet vegan cookie company! Maya spent years crafting her award-winning recipes. With forward-thinking flavors such as "Chocolate Chip S'mores" and "Marble Fudge," every cookie has a story grounded in Maya's travels, memories, and experiences.
Alongside providing the highest quality product that appeals to everyone, Maya's Cookies is committed to superior customer service and community engagement, with a focus on youth and underserved communities.
Were you able to finish this piece before running to bake cookies? It's okay—you can make up to use by sharing your OWN recipe on vKind's recipe platform! Get your recipe featured and explore the other tasty bites vKind members have to offer. 
Happy Dessert Day!
Team vKind 🐰
---
HOW TO GET INVOLVED
LEARN ABOUT PEELED, OUR BRAND NEW TV SHOW:
VKind is making VEGAN HISTORY by introducing the first and only 100% vegan cooking competition TV show!
Be sure to visit our new 
Peeled website
for the latest news, contests, giveaways, and raffles and to get VIP tickets to our Worldwide Premiere on Sept. 24th, 2022! Our exclusive red carpet premiere event will be held in the prestigious
Directors Guild of America Theater
in Hollywood, CA. Visit 
PeeledShow.Com
now to learn more!
CONTESTS & GIVEAWAYS:
Be the first to hear about our latest Giveaways, Contests, and Raffles by
following us on Instagram
where all of our giveaways are featured.
WATCH & LEARN:
We have so much exciting content on our
YouTube channel
with some amazing new shows!
Subscribe to our YouTube channel
for our latest shows, live events, interviews, videos, news, secret giveaway contests & more!
GET FEATURED:
We would love to publish & promote your delicious vegan recipes on our App, websites, and social media channels.
Submit your recipes here!
ADD YOUR LISTING:
Are you ready to attract customers and clients hyped on your values and what you offer? We're all about opening up more possibilities to support small to medium-sized vegan businesses, professionals, and companies, like YOU.
Add your listing now!
SUBSCRIBE FOR THE LATEST NEWS:
Get exclusive access to the latest vegan businesses, events, and plant-based news hot off the press.
Subscribe to our Newsletter.
Our mission is to connect vegan and veg-curious consumers with vegan brands, businesses, and professionals—the champions of conscious innovation.