When it comes to plant-based meat alternatives, burgers seem to be the most contested and explored. For that, burger culture within the vegan community has blossomed into this booming industry creating innovative and more sustainable practices being used to create some amazing products. Vegan burger culture has also been a main force to introduce many individuals to the plant-based culture and lifestyle.
Now that there are so many options to choose from, which vegan burgers rank the highest? vKind is here to help shed some light on some of the best places in the US to start.
The restaurants mentioned aren't ranked or in any particular order as you will soon see they are all worthwhile. 
Unable to make it to any of the restaurants featured? Keep reading until the end for some retail options that can be ordered online or found at a grocery store near you!
California-based Plant Power Fast Food is known as an innovator in the quick service restaurant field with its 100% plant-based offerings and biodegradable packaging. Plant Power features a menu that ranges from burgers, fries, shakes and 'chicken' tenders – to wraps, salads, juices, raw items and a kids menu. Plant Power has often been referred to as a vegan version of McDonalds and other similar fast-food concepts. 
Plant Power's "Big Zac" burger is a meatless riff on one of the great American fast food icons. Triple bun, two patties, two slices of cheese, pickles, onions, Thousand Island dressing—the Big Mac was the indulgent meal of choice for a few generations of hardworking Americans. 
The Big Zac burger is a winner in our book! Most people would have a hard time telling the Mac from the Zac.
Learn more about this company which is becoming the new "Vegan McDonald's".
Changing the World, One Burger at a Time ™️ 100% Plant Based Burgers, Fries, and Shakes.
Green: New American Vegetarian
Located in Phoenix and Tempe, AZ, Green is a 100% vegan restaurant that brings healthier spin comfort foods. They define their fare as new American vegetarian, an idea created and influenced by different cultures and cooking styles.
Here you can find plenty of veganized, american classics such as wings, chili fries, burgers and cheesesteaks along with some culturally inspired additions like samosas, hummus and tahini coleslaw.
They also offer online ordering, catering, gift cards and even fun coloring pages with puzzles designed by artist Shawn Hebrank.
Owner Damon Brasch emphasizes using fresh and organic ingredients as much as possible for best results. and that the restaurant is not just for vegans. His mission is to not only provide good food for vegans and vegetarians, but to also open the hearts and minds of meat eaters everywhere.
You've probably already heard of Slutty Vegan and rightfully so. 
It is a black-owned, women-led business based in Atlanta, GA. 
Owner Aisha "Pinky" Cole launched Slutty Vegan in 2018 after being inspired by late-night craving for vegan junk food, which isn't as common nor convenient as other junk food. She turned this inspiration into reality in 2018 with her first restaurant in West End, Atlanta and has experienced unforeseen success since. After just 3 years, Slutty Vegan now has 3 locations in Atlanta, Ralph David and Jonesboro, GA with intentions to expand to other states.
Along with their vulgarly-alluring food names, a quick brouse of their website and instagram will give you junk food cravings just like Cole. This is the only place where one night stands and ménage à Trois are risk-free, wrapped and served on a tray.
A vegan mac'n cheese burger? Yes please!
This Los Angeles gem serves up all vegan tex-mex inspired cuisine from their Nashville hot chicken sandwich to their awesome looking tacos and burritos.
If you want to actively support a business of color, then this is the perfect business for your contribution. You can visit the restaurant, book them for catering or purchase wholesale items offered on their website.
They have been proudly serving delicious food to greater Los Angeles and soon the Burbank, CA community – so residents get excited!
Have you ever heard the saying that some of the best food comes from food trucks? Well, whether you have or not, that can definitely be said about these burgers on wheels. 
Vegan Junkie is a burger food truck business started in 2019 in Fort Lauderdale Florida. Owners Ricardo and Martha Tabola make all burgers from scratch using fresh ingredients and vegetables instead of soy to promote their idea of gourmet and artisan fast food. Their mission is to set a new tradition for fast food by offering original, authentic, plant-powered food appealing to all, regardless of their dietary preferences, while keeping sustainability and ethicality top priorities.
Their unique menu features a Bakon Cheeze burger, Shhicken sandwiches, a Carribean BBQ burger and much more. All be ordered online for pick up or in-person Thursdays through Sundays at their pop up location in Fort Lauderdale, FL.
As one of the few vegan drive-thrus known in the country, this is the best of 'em. 
Santana's Vegan Grill is a plant-based, comfort food restaurant located in Colorado Springs, CO with a ton of options to choose from. The restaurant is also Latina owned, created by Dusty Hernandez who wanted to provide an environment where vegans could get great vegan food stat!
Their deluxe cheeseburgers seem to be a fan favorite but they also serve chicken sandwiches, meatball subs, hot dogs and sausages. 
They also have a loaded breakfast menu with breakfast burritos, pancakes and other delectably familiar breakfast foods.
Eating plant-based on the go can be difficult to do since there is a lack of open widely available and, since most vegan food is made fresher and/or made from scratch, it tends to take longer to prepare. To innovate a remedy to this problem, Philip and Danea Horn came up with the idea for a restaurant that would serve tasty plant-based fast food that could be provided quickly to simulate any other fast food restaurants.
Burger Patch is a vegan, quick-serve establishment that started in Midtown Sacramento but is now also located in Downtown Davis and East Sacramento, CA. Here you can enjoy grilled burgers, chicken sandwiches, bac'n mac'n cheese, ice cream and more. There is even a breakfast menu for the weekends featuring english muffin breakfast sandwiches, hashbrowns and milkshakes.
Burger patch also has a focus on sustainability by using paper bags, recycled pulp containers and compostable straws, cups and dipping containers.
Inclusive food courts couldn't be closer to reality with inventive restaurants like these.
Beleaf Burgers is another Californian burger joint located inside Cravings 99 Ranch Market in Chino, CA. 
Co-owner Johny Tran told BeondTV that Beleaf was created with a goal to create attractive transitional foods for people who were thinking about going plant-based.
The menu may be small but full of mouthwatering flavor. Aside from their house seasoned Beyond patty burgers they offer various chicken sandwiches, beleaf nuggets, milkshakes and their unique addition of a fish sandwich and "nozzerella" sticks. 
Understandably, many people are still staying home or live too far away to try these awesome restaurants anytime soon. So, here are some or the best vegan burgers that can be parched online or at most recognizable grocery stores.
Beyond is a delicious, all-vegan burger made with health, animal welfare and sustainability in mind.
Beyond burgers are mainly made from pea protein as well as rice protein, mung bean protein, oils and beet juice for the "bleeding" effect.
They are also widely used in restaurants and found to be cheaper than the impossible burger in most stores.
They can be made into meatballs and beyond meat crumbles, both of which you can also buy in stores. You can also purchase Beyond's flavored beef crumbles or their variety of sausage links and patties.
BUY IT HERE: VKind, Vejii, NoPigNeva, Gtfoitsvegan, Beyond Mea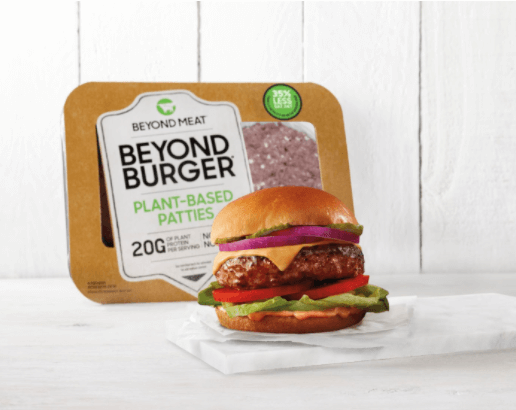 Hilary's Eat Well Burgers
Hilary's Eat Well provides quality plant-based foods  by making all of their products non-GMO verified, certified gluten free, vegan, and free of top allergens like gluten, nuts or soy.
They are most known for their World's Best Veggie Burger made with cooked Whole Grain Millet, leafy greens, sweet potato and potato starch.
They also have a variety of veggie burgers such as spicy thai veggie, hemp and greens, southwest adzuki bean and fiesta black bean.
If you are wanting a more down-to-earth veggie style burger, then you should definitely give Hilary's unique flavors a try. 
BUY IT HERE: Hilary's Eat Well, Gtfoitsvegan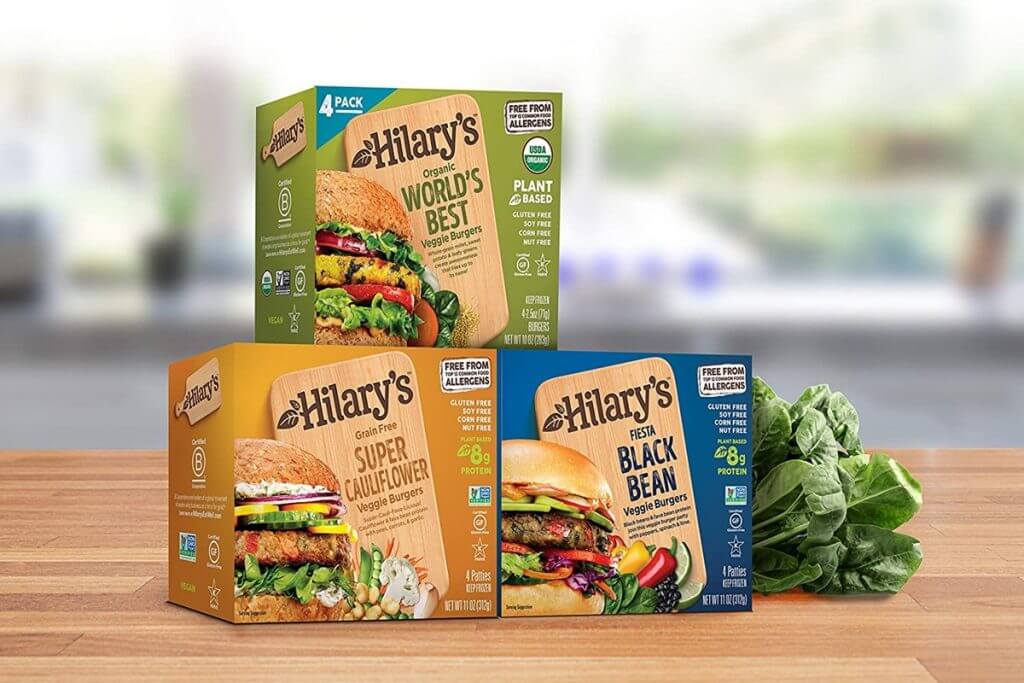 Gardein Garden Veggie Burger
Perhaps the most affordable option on the list, Gardein's veggie burger is more than worth the price. Made simple with roasted peppers, corn, carrots, onions, peas, and brown rice the garden burger is definitely one of their best. 
It is also kosher and gluten-free! Their black bean chipotle burger comes in at a close second with its spicy and delightful smokiness.
Gardein also has other creative and unique burger options such as their falafel burger, chickpea burger, ultimate beefless sliders and more.
What is also great about Gardein is you can find their products at most commercial grocery stores including Walmart, Kroger, Publix etc.
BUY IT HERE: Vejii, NoPigNeva, Gtfoitsvegan, Gardein
---
HOW TO GET INVOLVED
CONTESTS & GIVEAWAYS:
Be the first to hear about our latest Giveaways, Contests, and Raffles by
following us on Instagram
where all of our giveaways are featured.
WATCH & LEARN:
We have so much exciting content on our
YouTube channel
with some amazing new shows!
Subscribe to our YouTube channel
for our latest shows, live events, interviews, videos, news, secret giveaway contests & more!
GET FEATURED:
We would love to publish & promote your delicious vegan recipes on our App, websites, and social media channels.
Submit your recipes here!
ADD YOUR LISTING:
Are you ready to attract customers and clients hyped on your values and what you offer? We're all about opening up more possibilities to support small to medium-sized vegan businesses, professionals, and companies, like YOU.
Add your listing now!
SUBSCRIBE FOR THE LATEST NEWS:
Get exclusive access to the latest vegan businesses, events, and plant-based news hot off the press.
Subscribe to our Newsletter.
Our mission is to connect vegan and veg-curious consumers with vegan brands, businesses, and professionals—the champions of conscious innovation.