Today in honor of and to celebrate St. Patrick's Day we'd like to share a wee bit of the beauty and vegan deliciousness that Ireland has to offer with you! We're lucky to have two members of the vKind community who've put together this insider glimpse into what supporting the VegEconomy® looks like when we're traveling (and oh how excited we are at the thought of being able to do this again!) 
Imagine having the opportunity to find your ancestral home, the place where your family's name originated, the location that was the birthplace of your ancestors from hundreds, if not thousands of years ago. Have you wanted to know more about your heritage? We sure did, and we found it! Once we found out Ireland held so much of our families' lineages, we set out on a journey to find the origins of our families' names that came from the great green isle while tasting all that Ireland has to offer for Vegans.
Cornucopia is always our first stop when we visit Dublin! This spot is absolutely adorable, wall to wall charming wallpaper, a lunch counter style checkout, wonderful coffee bar options though we never pass up a good pot of Irish Breakfast tea, and cozy seating upstairs and down. We have made this our first stop on every visit to enjoy one of our top sought after Irish food items, a Full Irish breakfast, made vegan! The Full Irish included delectable tofu scramble, housemade, perfectly spiced sesame seed crusted vegan sausage, potato cakes, grilled tomato, baked beans, mushrooms, and deliciously creative veggie combos. On our last visit our flight came in later so we hit them up for lunch. What a treat! The amount of food and value was great and the flavors were delicious. We had the stuffed eggplant with a potato and quinoa salad along with the stew with greens. This spot is always buzzing and tight quarters but cozy and the food is always so comforting. We will continue to come back here, also a great place to get excellent vegan pastries to go for traveling. We stocked up on cookies and scones to carry in our bags as travel snacks.
Next long dreamt of food experience to cross off the list, high tea! Vegan Afternoon Tea at the Westin in Dublin was a bucket list experience for sure. Absolutely everything was delicious and fancy. We kept it simple in the tea department, tried their Darjeeling tea with a spot of soy milk and their earl grey with one brown sugar cube. The food was out of this world. Finger sandwiches included sweet pickle and cucumber, sun dried tomato purée with rocket salad, hummus with heirloom tomato salsa. Traditional fruit scone with vegan butter, swoon-worthy coconut clotted cream and magical jam. Belgian chocolate rocky road biscuit cake, aka unearthly cookie creation with an amazing range of delicious textures in one itsy bitsy biscuit. Perfectly balanced and rich chocolate praline mousse, precious little snowball coconut bonbons, triple chocolate chip brownie and the crown jewel that years later we cannot stop thinking about, their homemade rose water Turkish delight that was more like a very subtly sweet rose jelly than the excessively chewy, cloying delight we have experienced in the US. If you love tea, the idea of gorging on meticulously crafted, tiny sweet and savory items and a semi-formal romantic setting, you must schedule yourself a vegan tea at the Westin.
But what to feast on between breakfast and tea, you ask? Our favorite lunch spot in Dublin is Veginity. This is a must visit spot for any vegan visiting Dublin. We have enjoyed casual lunches there on each of our trips and on our last trip finally made it for dinner, when it gets a bit swankier vibe and a rotating seasonal menu. We have totally loved everything we have had here and trust the chef and the staff to help us find what sounds the best at any given time. Excellent and creative flavor combinations, wonderful textures and helpful staff not to mention another fab spot for vegan pastries to go.
Needless to say, you are not likely to be hungry by this point but we have had tremendous luck in finding vegan meals in our hotels and it is an excellent way to stay "close to home" and enjoy a flight of Irish whiskey without getting lost on the walk back to where you're staying! There are a host of Thai and Indian restaurants in Dublin, and across the country, that have reliable vegan options. We were surprised to see many of the pubs have a vegan curry or vegan potato leek soup available and if you're like us you're plenty happy to survive on chips and malt vinegar for a while.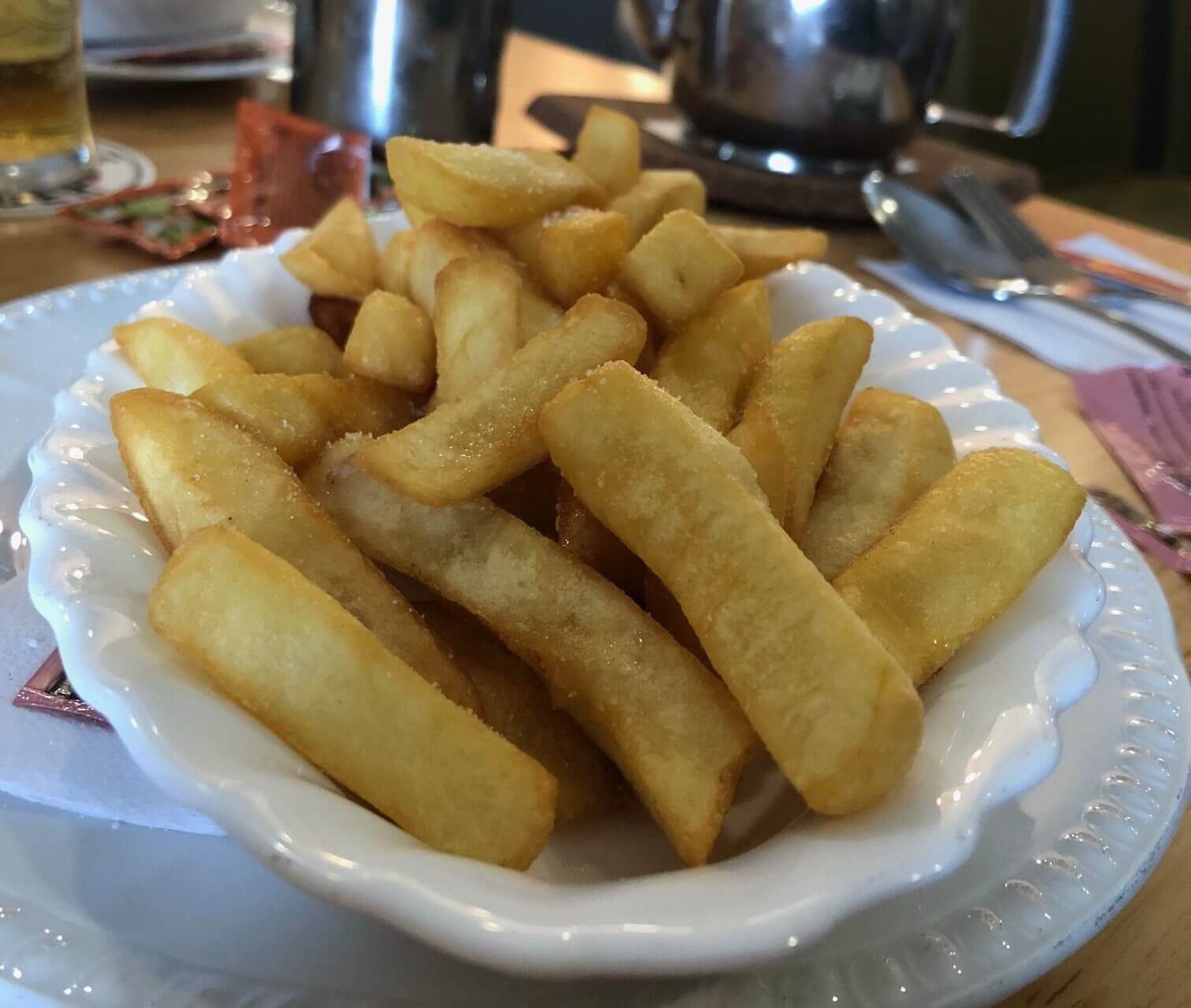 While one can survive on chips, aka fries, alone.. Mmm delicious, delicious chips. The true pot of gold we were searching for was a proper vegan "fish and chips." On our first trip we had the tremendous luck of finding an option on our travels in Galway, a must-see west coast area for its culture and proximity to the Cliffs of Moher, that was off the charts delicious. We tried to strike gold a second time on our next trip only to discover it was another case of the rotating menu. Blast! While the Quay Street Kitchen no longer had our favorite dishes, the curry with fried tofu added and the potato skins loaded with red peppers, olives, tofu, and all the yumminess made a lovely ending to a very happy day!
Since our first visit in 2014 veganism and vegan specific spots have become more available. Most omnivorous restaurants have at least one vegan option and ingredients are very clearly marked on menus with food sensitivity knowledgeable staff at most spots. What you will not find is the premade vegan faux meats we have in the US. When you do find these specialty dishes they are typically made in house and because of that are either totally incredible or, sadly, a big fat flop. Heads up, chefs… a block of unseasoned tofu wrapped in thick chewy kelp that you batter and fry does not resemble fish and will leave very hungry vegan patrons hangry and a little grossed out. I'm looking at you, Belfast. That said, there is an entire establishment now dedicated to vegan fish and chips in Dublin. On our second trip we had tried to track them down but they were a food truck at the time and we had no luck. On our last trip they had settled down into a cute little spot with a few bar style seats available, it is more of a grab and go location but Vish Shop will hit the spot.
The humble potato has come a long way in Ireland since its introduction there in the late 16th century, from its distant origins in Peru. During the Potato Famine and subsequent Irish immigration to America between 1845 and 1855 more than 1.5 million adults and children left Ireland to seek refuge. Most were desperately poor, and many were suffering from starvation and disease. They left because disease had devastated Ireland's potato crops, leaving millions without food and the primarily agrarian society without a means of income.
Americans with Irish ancestry now make up over 10% of the current population in the United States of America with around 33 Million Irish Americans. The current population in Ireland is just under 5 Million People. 
Our family left Cork, Ireland during the Potato Famine. The Kelleys, Doughertys, Ronans, Donalsons, and Rings all came to America to find refuge. Both my mother's paternal and maternal sides of the family and my father's side were a part of this migration.  I am super thankful for this great country, and I'm proud to be a surviving member of this history. We need to be celebrating our history and doing everything to help those find refuge here in our United States. I believe we can get back to the values of welcoming travelers from around the world to America. I know it will take time to get through this pandemic, but I do think we all could use a good trip down our family tree and realize we are all in this together on this wonderful St Patrick's Day.
Can pictures do justice for what it feels like to be in Ireland? Of course not. This is why our new series is a must see. This journey is not just about Ireland, it's about finding the answers to where we all come from and how we all ended up at our new home. 
---
HOW TO GET INVOLVED
LEARN ABOUT PEELED, OUR BRAND NEW TV SHOW:
VKind is making VEGAN HISTORY by introducing the first and only all vegan cast cooking competition TV show!
Be sure to visit our new 
Peeled website
for the latest news, contests, giveaways, and raffles. Visit 
PeeledShow.Com
now to learn more!
CONTESTS & GIVEAWAYS:
Be the first to hear about our latest Giveaways, Contests, and Raffles by
following us on Instagram
where all of our giveaways are featured.
WATCH & LEARN:
We have so much exciting content on our
YouTube channel
with some amazing new shows!
Subscribe to our YouTube channel
for our latest shows, live events, interviews, videos, news, secret giveaway contests & more!
GET FEATURED:
We would love to publish & promote your delicious vegan recipes on our App, websites, and social media channels.
Submit your recipes here!
ADD YOUR LISTING:
Are you ready to attract customers and clients hyped on your values and what you offer? We're all about opening up more possibilities to support small to medium-sized vegan businesses, professionals, and companies, like YOU.
Add your listing now!
SUBSCRIBE FOR THE LATEST NEWS:
Get exclusive access to the latest vegan businesses, events, and plant-based news hot off the press.
Subscribe to our Newsletter.
Our mission is to connect vegan and veg-curious consumers with vegan brands, businesses, and professionals—the champions of conscious innovation.